1232 Copeland St.
North Bay, ON P1B 3G1
705 474-2878
ratchetjaw@bell.net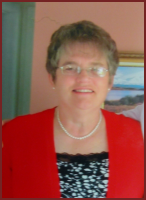 Susan came from a musical family and studied piano from age seven to sixteen. Many practical opportunities set the pattern for lifelong involvement in community music including playing for church services and accompanying for soloists, choirs and musical theatre.
After five years of university and a couple of years working in social services, Susan again pursued musical studies as well as part-time teaching while raising four children with her husband, Cal. She completed the piano teacher's ARCT in 2001.
Susan has been teaching piano and rudiments from her home in North Bay for more than thirty years. Her students perform successfully in Kiwanis, Contemporary Showcase and RCM exams. Some have become church musicians or accompanists for musical theatre.
In fifteen years as a member of ORMTA, Susan has written North Bay's "Notes" Magazine submission for several years, once held the position of president and currently serves as workshop convenor.
Outside of music, Susan enjoys cooking for family gatherings, the outdoors, reading, knitting, sewing, old movies and spending time with three small grandchildren.